Dear friends,
We are delighted to announce Angus' new solo album Broken Brights
is available for pre-order today.
iTunes
For Australia, North America, UK & Europe iTunes,
you can order yours HERE.
Official release dates:
Australia - 13 July
UK/Europe - 16 July
North America - 17 July
France - coming soon
~~~
Physical Retail - Standard, Deluxe & 12Inch Vinyl

Standard
The standard physical edition of Broken Brights is available for pre-order from Australia HERE.
For northern hemisphere friends, you can preorder from Amazon HERE.
Deluxe
The deluxe physical edition is available for pre-order from Australia HERE.
For our friends in the northern hemisphere, the deluxe is also available at Angus' store HERE.
The vintage, 70s-feel artwork of Broken Brights is replicated in this deluxe album package. It includes the exclusive track 'Old Mercedes Benz'; and a custom-made, cotton, Hessian bag that holds a special, gatefold cardboard CD wallet; a pack of hand-drawn playing cards and extended 24-page lyric booklet - all with matt finish.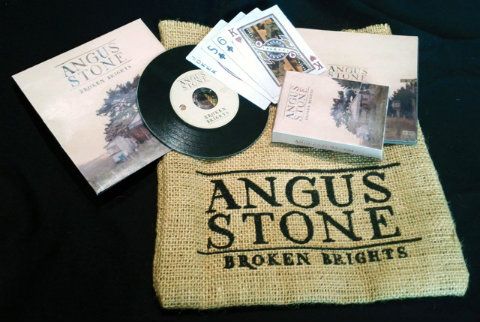 12 Inch Vinyl
The deluxe, double-album vinyl is available for pre-order from Australia HERE.
This beautiful, double-album vinyl features the music and artwork of Angus' new album 'Broken Brights'. There are only 500 hand-numbered, 12inch gatefold sleeves with a tactile uncoated finish, which encase 2 x 180g heavyweight vinyls. Strictly limited edition vinyl album. *Picture shows inside of gatefold sleeve
~~~~~
Watch Angus play an acoustic version of Track #4 "Wooden Chair" from the upcoming album HERE... Official video will be released next week. Check Facebook for the premiere!
Angus is gearing up for his debut solo appearance at Splendour in the Grass...
Hope to see you along the road!
A.S. HQ xx